Save with our innovative Pay-What-You-Can Program.
Lowest Prices Guaranteed. Bulk Discounts.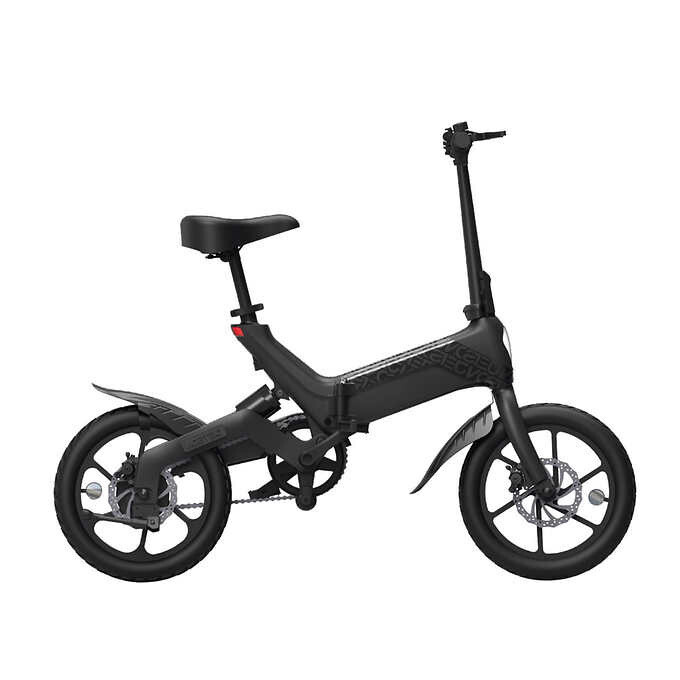 Jetson Haze Foldable E-Bike
JHAZE-BLK
Product Details
It's difficult to get more compact than this ebike. With the ability to folding frame, handlebars and pedals, this ebike has a removable battery with full throttle capabilities and 3 levels of pedal assist. It fits inside cars and is super portable inside public transport. With speeds up to 25 km/h, ride on this ebike with style, and get to work on time. With it's whopping 265 lb weight limit, don't be afraid to take it on your next ebike joy ride. Lastly, power in style with a 350 watt hub motor to provide quick speeds fast.
Specifications:
All of our ebikes come with a bell, headlight, storage pouch, and phone mount
Foldable frame, handlebars, and pedals
Motor: 350 watts hub motor, 48 volt, 7.5 Ah
Speed: 25km/h (15 mph) pedalling power assist
Removable 7.5 ah Lithium-ion battery, and anti-theft locking device on the wheels for extra security
Pedal Assist Range: 48.3 KM/charge (30 miles)
Throttle Range: 24 KM/charge (15 miles)
3 levels of pedal assist
Comfortable saddle with shock absorption
Battery and battery level indication
Less than 5 hours charging time
Brake Levers with dual disk brakes
Soft and comfortable grips with twist throttle up to 15 degrees angle
Weight Capacity: 120 kg (265 lbs) maximum
Folded Dimensions: 77.47 × 43.18 × 63.5 cm (30.5 × 17 × 25.5 in)
Unfolded Dimensions: 132.84 × 57.91 × 104.14 cm (52.3 × 22.8 × 41 in)
We have available inside boxes and assembled
7 day return*, 90 days warranty
Let our 5 Star Service Staff guide you through your purchase experience.
Please don't hesitate to call 778-957-3448 with any questions. https://adventure-outdoors.ca/
Save this product for later