Save with our innovative Pay-What-You-Can Program.
Lowest Prices Guaranteed. Bulk Discounts.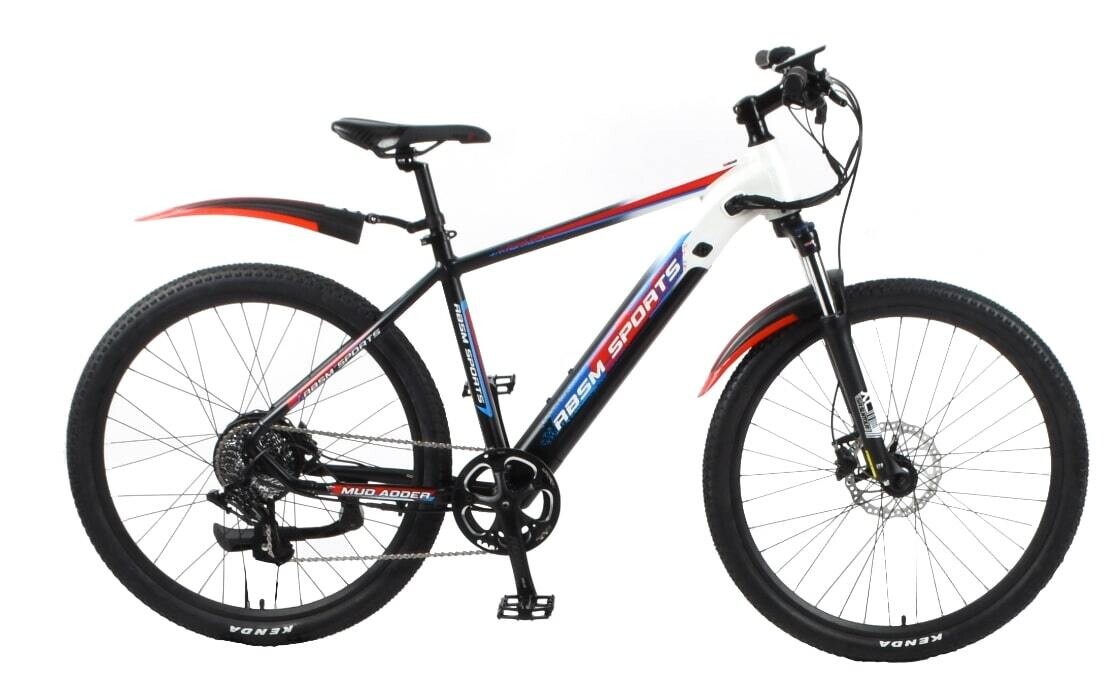 RBSM Mud Adder E-Bike
SKU AO-0012
Product Details
Ride on any trail, paved or unpaved with Adventure Outdoors x RBSM Mud Adder E-bike.

This Sport E-Bike is a tough and rugged electric mountain bike designed and developed for off-road and on-road cycling adventures. It rides just like a regular mountain bike, with or without a charge in it. it is among the lightest E-bikes on the market. The built-in frame battery has the look and feel of a regular mountain bike with the added ability to charge your phone through a USB plug. Front suspension forks offer the most comfortable riding experience for any terrain. Front and rear hydraulic disc brake for better brake performance.
Specifications:
All ebikes come with a bell, headlight, storage pouch, and phone mount.
Frame: Aluminum Alloy
Motor: 500 watts 48 volt.
Speed: 32km/h (20 mph) pedaling power assist
Battery: 48 volt, 10.5 AH. , 504-watt-hours, Lithium-ion, SAMSUNG battery cells, can be charged on or off the bike
Range: 55 KM/charge, (30 miles)
Fork: Zoom Hydraulic suspension aluminum alloy front fork
LCD display KDS986
Battery and battery percentage indication
Motor Power indication
Assistance-level indication
Speed indication (incl. running speed, Max. speed and Ave. speed)
Odometer and trip distance
The push-assistance function
Trip time indication
Backlight On/Off
Error code indication
USB connection indicator
Various Parameters Settings (e.g., wheel size, speed-limited, battery level bar, assistance level etc.), Smart charger, 120/240 volts, led indicator, UL certificate, 2 amp, charges bike in 4 to 6 hours
Charger: 48V 2A, AC input line 110-240V ,2AMPS CHARGE
Brake Levers Aluminum with power cut-off switches on both levers
Handlebar/Stem Aluminum Alloy
Saddle SR fashion saddle
Grips VLG soft and comfortable grips
Seat Height: 80 cm to 100 cm (31.5 in. to 39 in.)
Weight/height Capacity 100 kg (220 lbs) maximum
Recommended for riders 4'8" to 6'1″
All bikes in working condition. May require minor tune-ups. No warranty. All bikes are less than 500km on the odometer.
We have available inside boxes and assembled
7 day return*
Let our 5 Star Service Staff guide you through your purchase experience.
Please don't hesitate to call 778-957-3448 with any questions. https://adventure-outdoors.ca/
Save this product for later